2018 Subaru WRX STi With Tasteful Mods & Airlift Air Suspension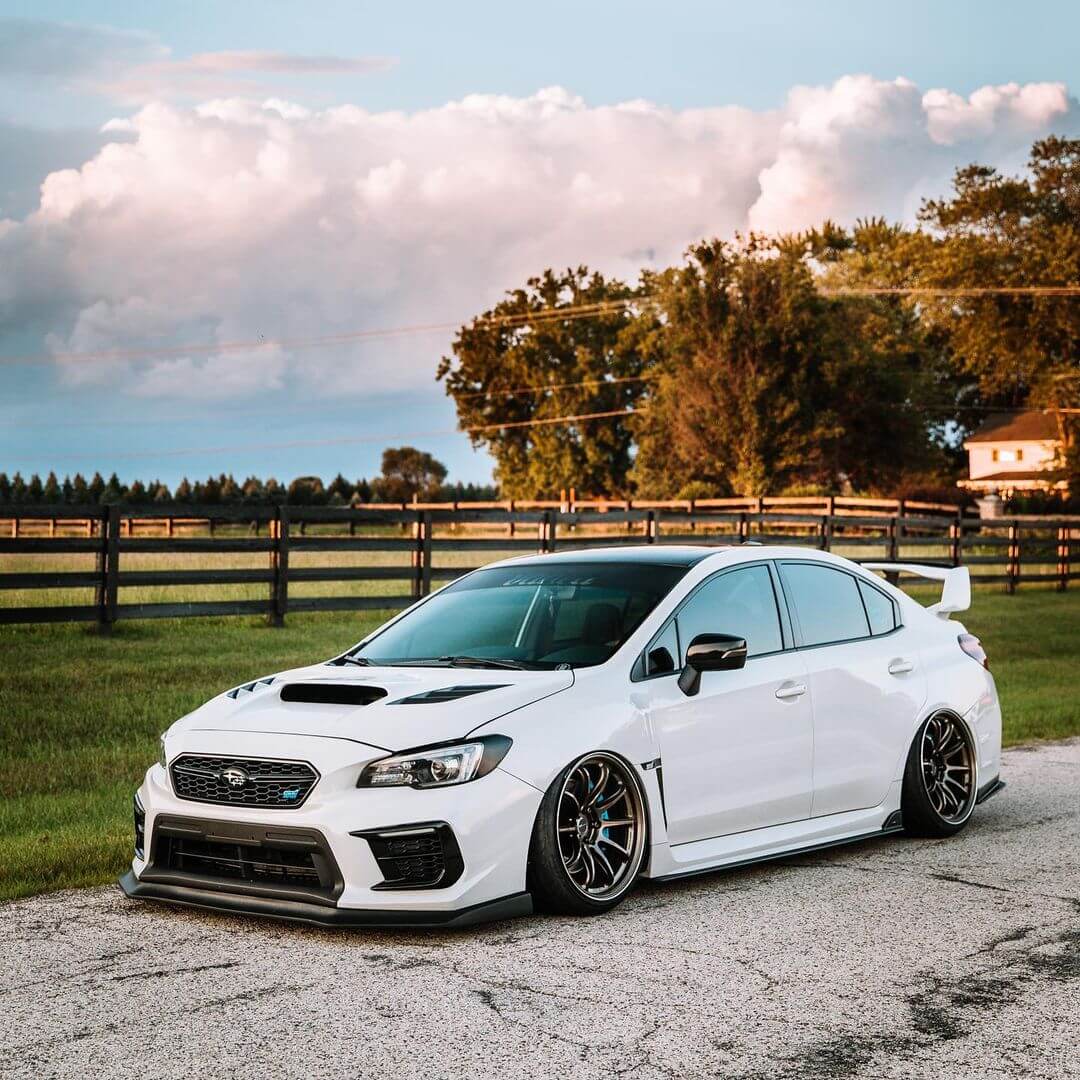 If you're into fun-to-drive import performance cars but need the convenience of a 4-door sedan, it's hard to find a better option than a Subaru WRX STI. This car is familiar to anyone, as it's been around since the mid-90s, but just like the good vine, it became better with time.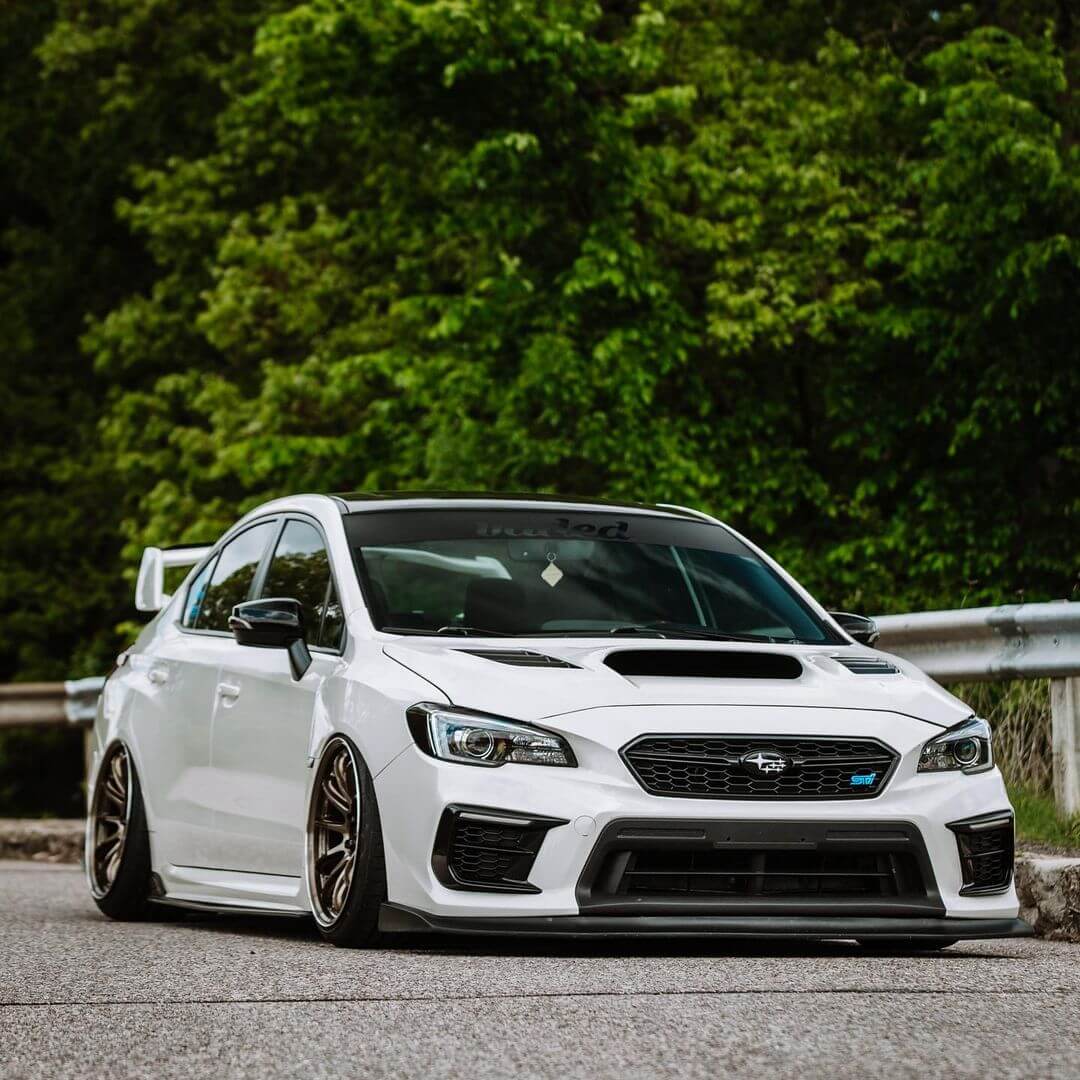 The all-wheel-drive layout and turbocharged boxer engines were the key elements that made this model stand out from the crowd of other import and European cars in this segment and gain astonishing results in the world of motorsports. The combination of all these features along with a longer 4-door base provided the car with a row of distinguishing driving characteristics that are so much appreciated by professional racers and enthusiasts worldwide.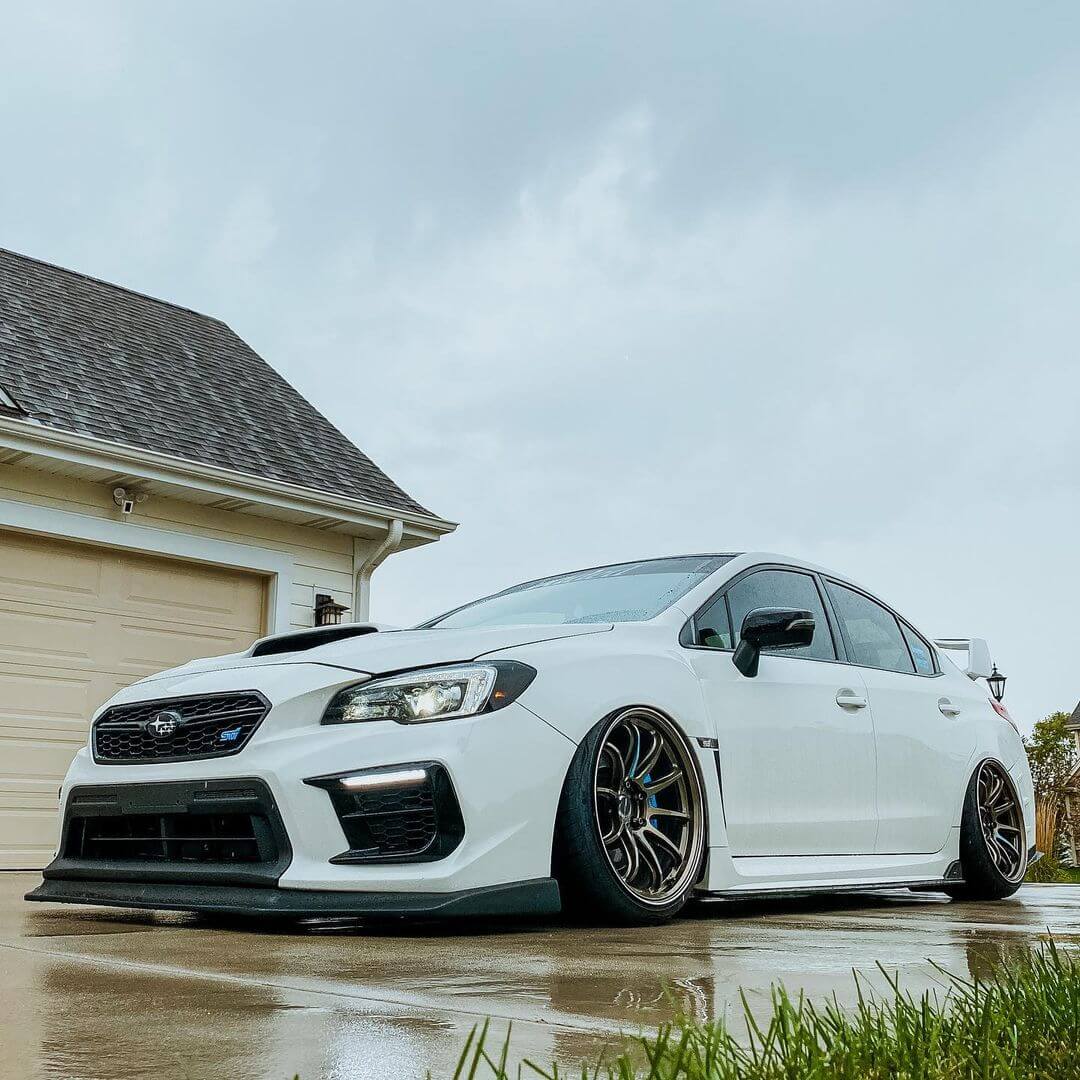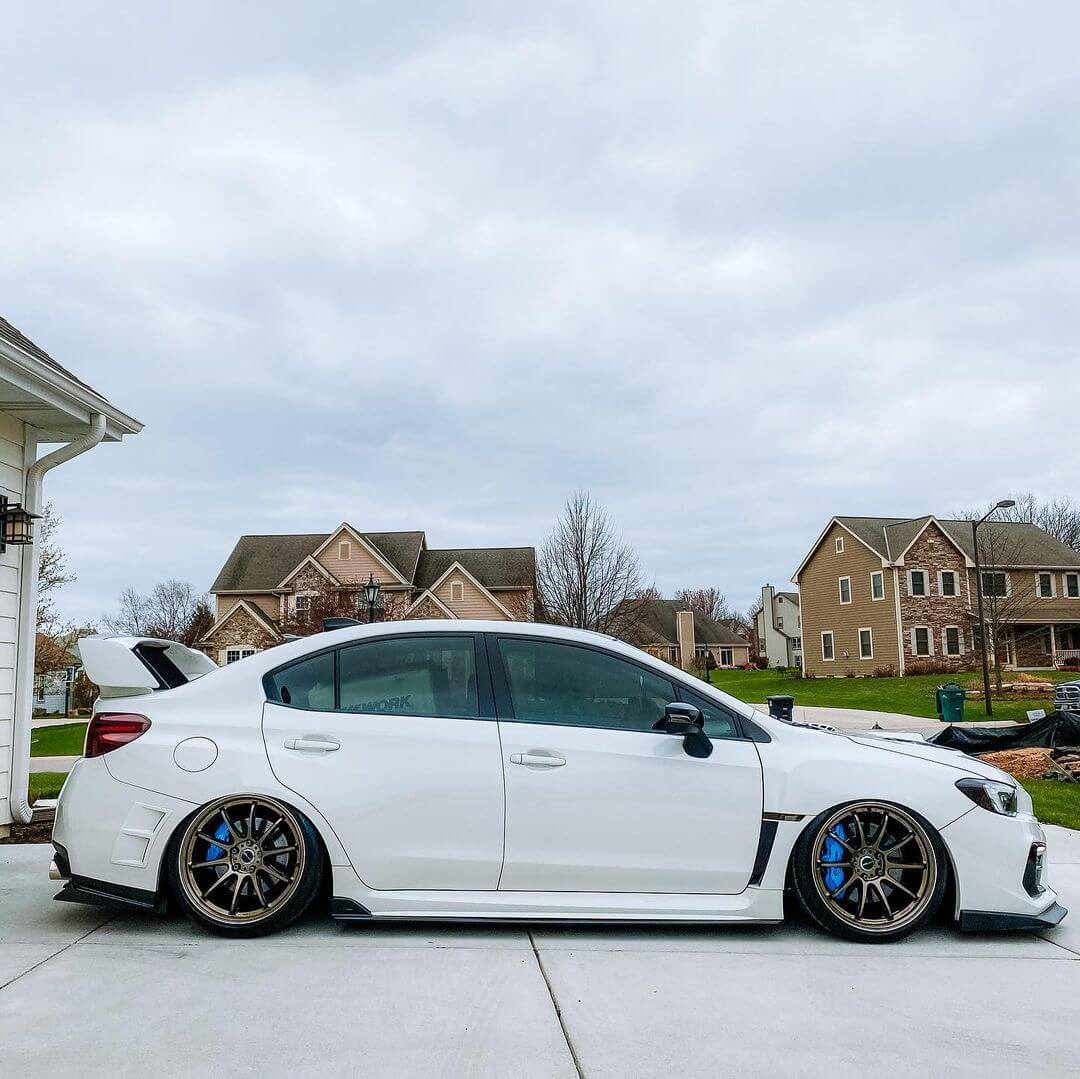 Just like its predecessors the latest generation of the Impreza WRX STI models has everything that we appreciate and love about these cars. The Turbocharged EJ257 2.5L Boxer engine provides 305 HP and 290 lb⋅ft of torque to all 4 wheels through a TY85 6-Speed manual transmission. Even though the car drives and looks exceptionally well, there's always some room for improvement, and so the owner of this white 2018 WRX STI decided to tailor its looks and driving characteristics to his own vision.
"Even though the car drives and looks exceptionally well, there's always some room for improvement"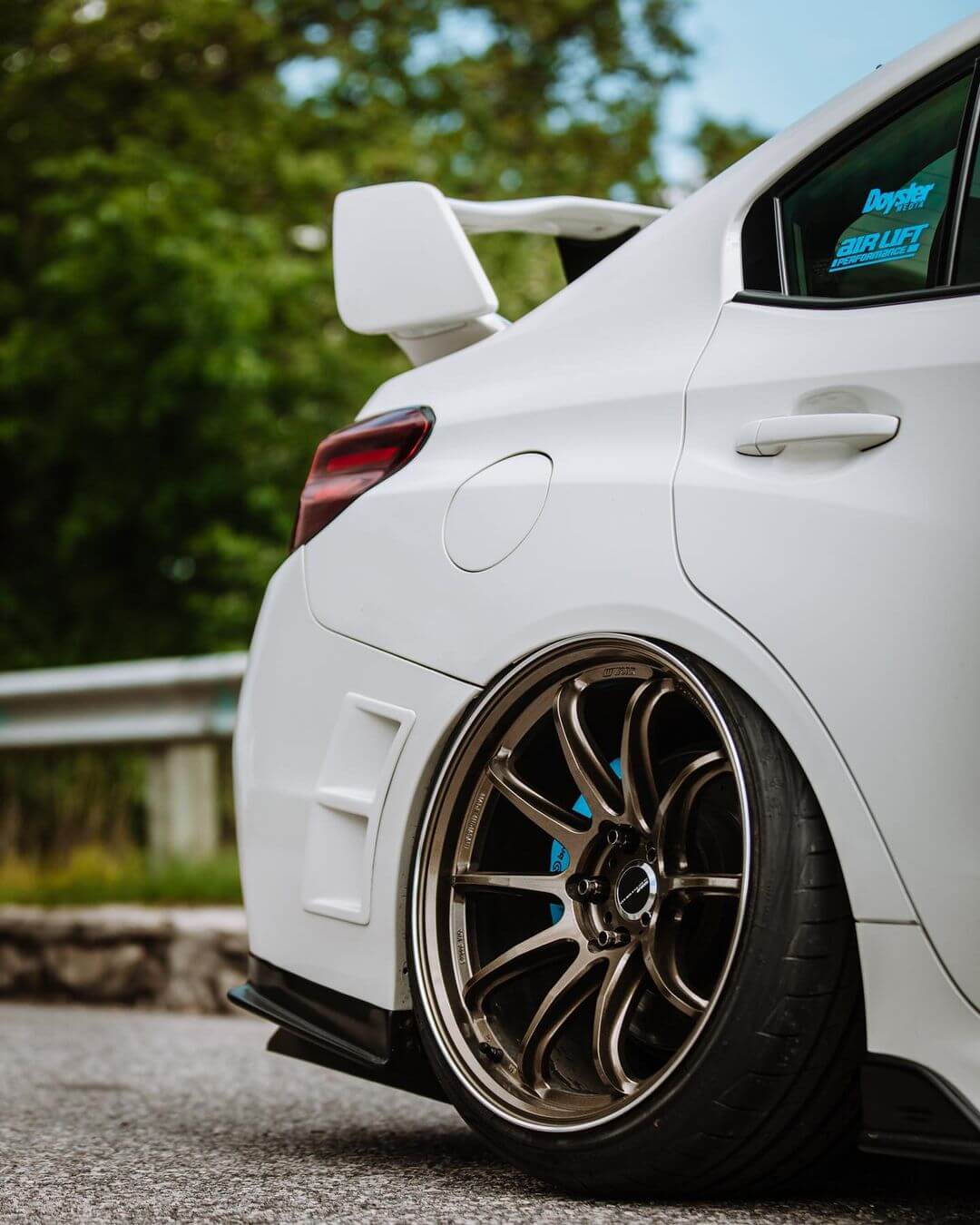 The car sits just a few inches off the ground on a lowered suspension and a set of forged Work ZR10 wheels sized at 19×10.5 +23ET and wrapped in 245/35R19 Tires with Riviera blue custom painted brake calipers visible through the spokes. The XL CS Style front bumper and STi OE style skirts and spats, along with Varis style diffuser make the car look flush to the ground and give that ground-hugging sporty touch to the exterior.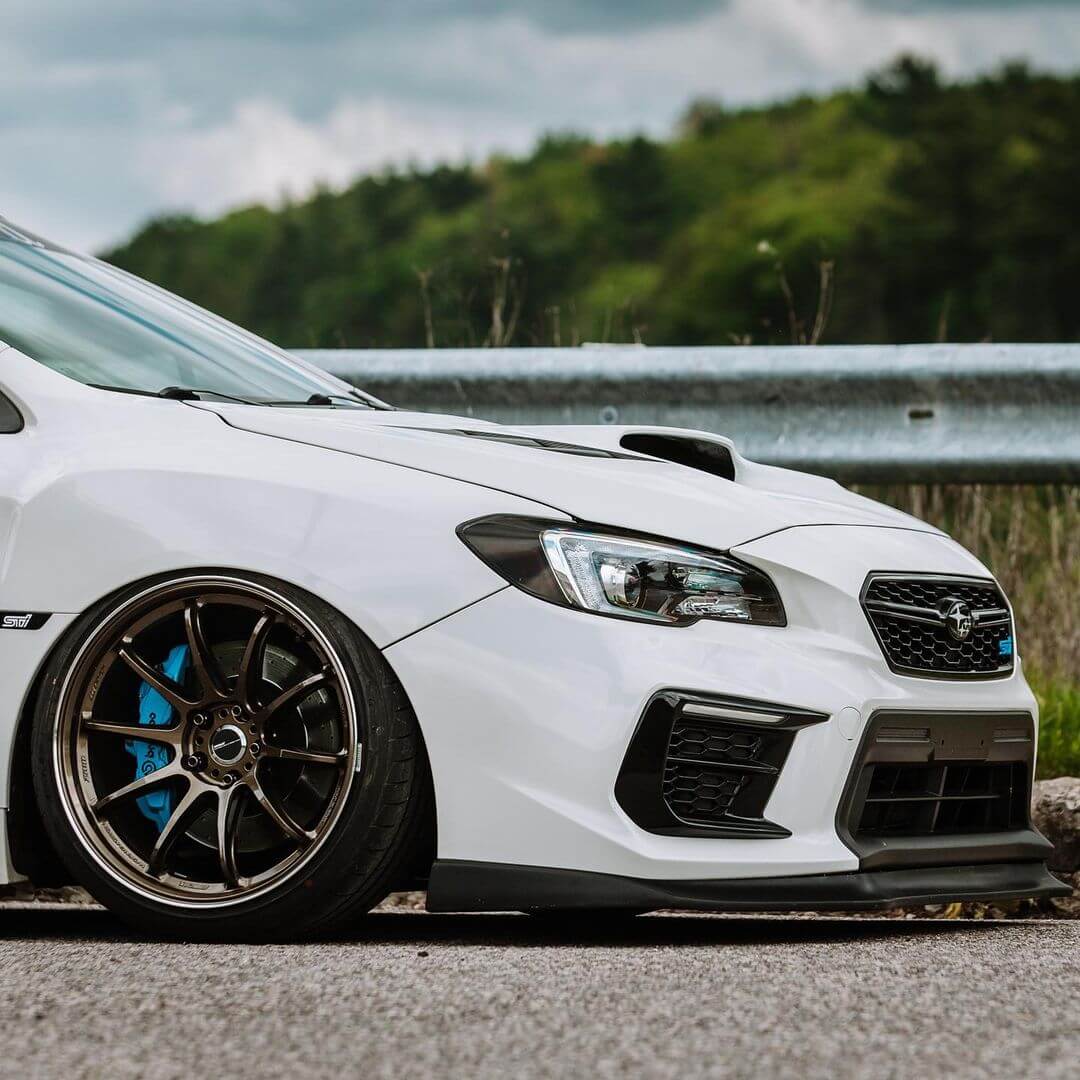 An experienced eye will notice such exterior upgrades as the OLM Paint matched hood with black headlight surrounds, whit STi badging, S207 Bumper Vents, Vland Taillights, Perrin Stiffeners, HIC Roof Vane, Maxton Gurney Flap, Black Edging, and GCS Rear fog.
To make the car sound right and gain a few extra horses, the owner decided to install a P&L Track Series Exhaust that provides a beautiful tone and enhances the performance at the same time.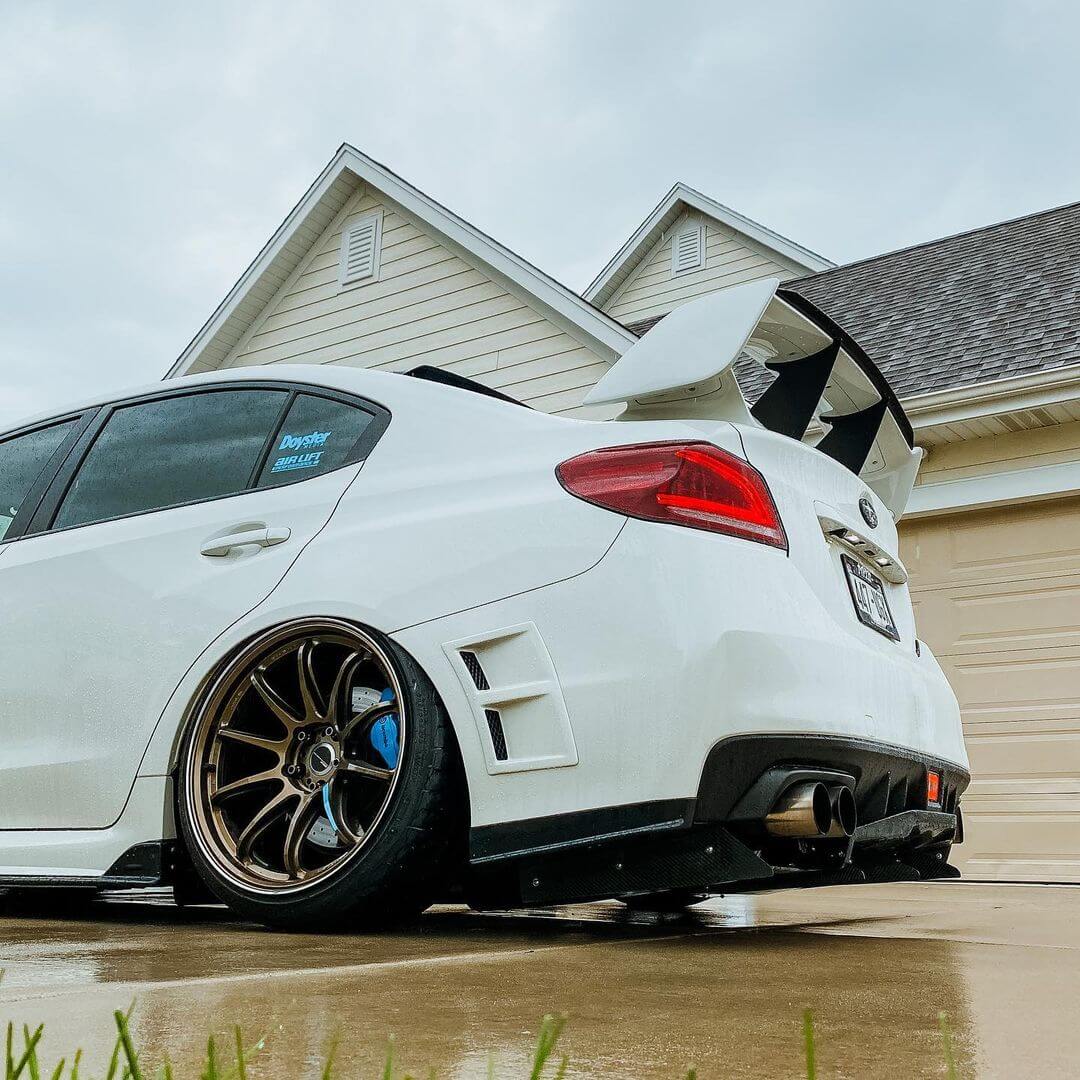 Specs – 2018 Subaru WRX STI
Wheels
Work ZR10 19×10.5 +23ET with 245/35R19 Tires
Performance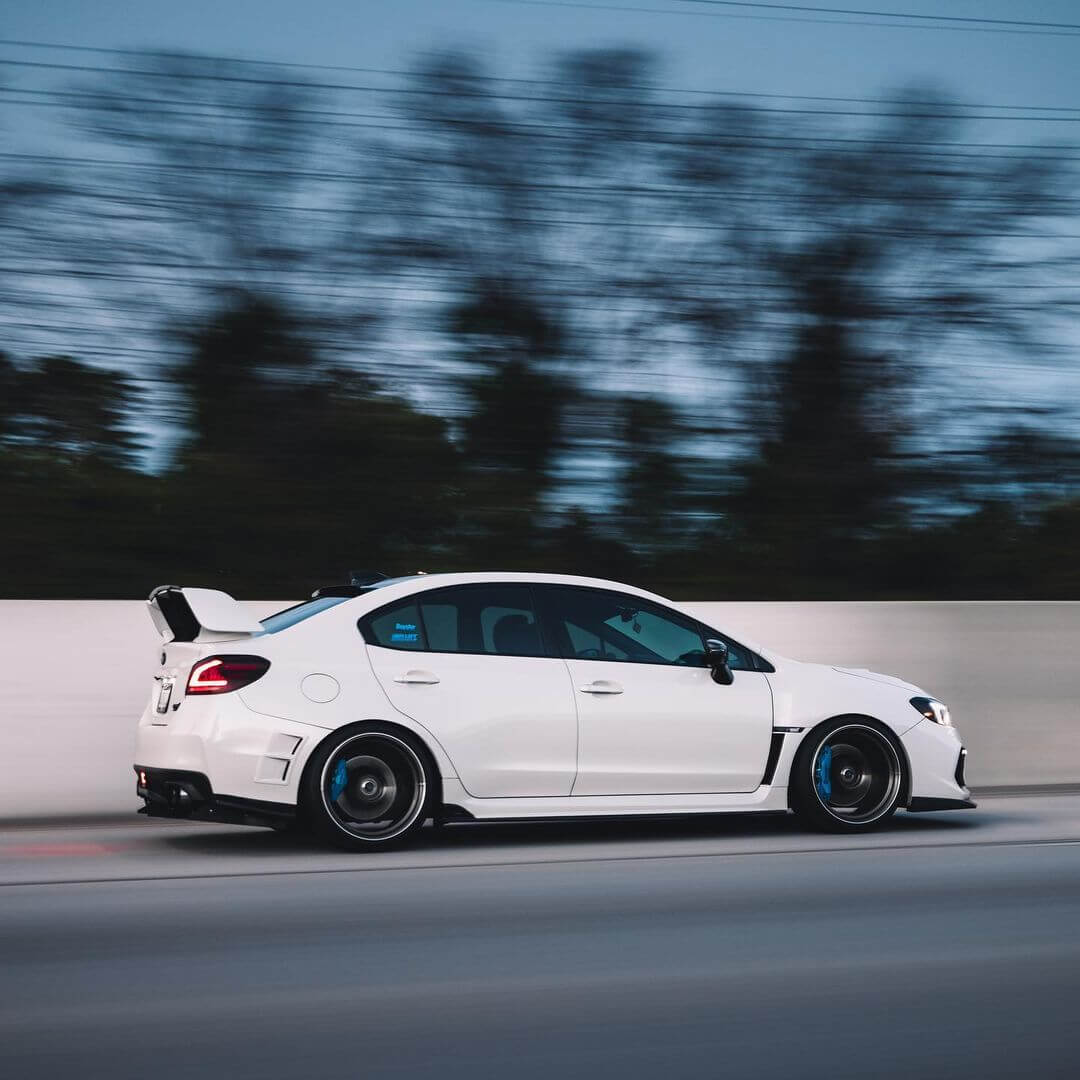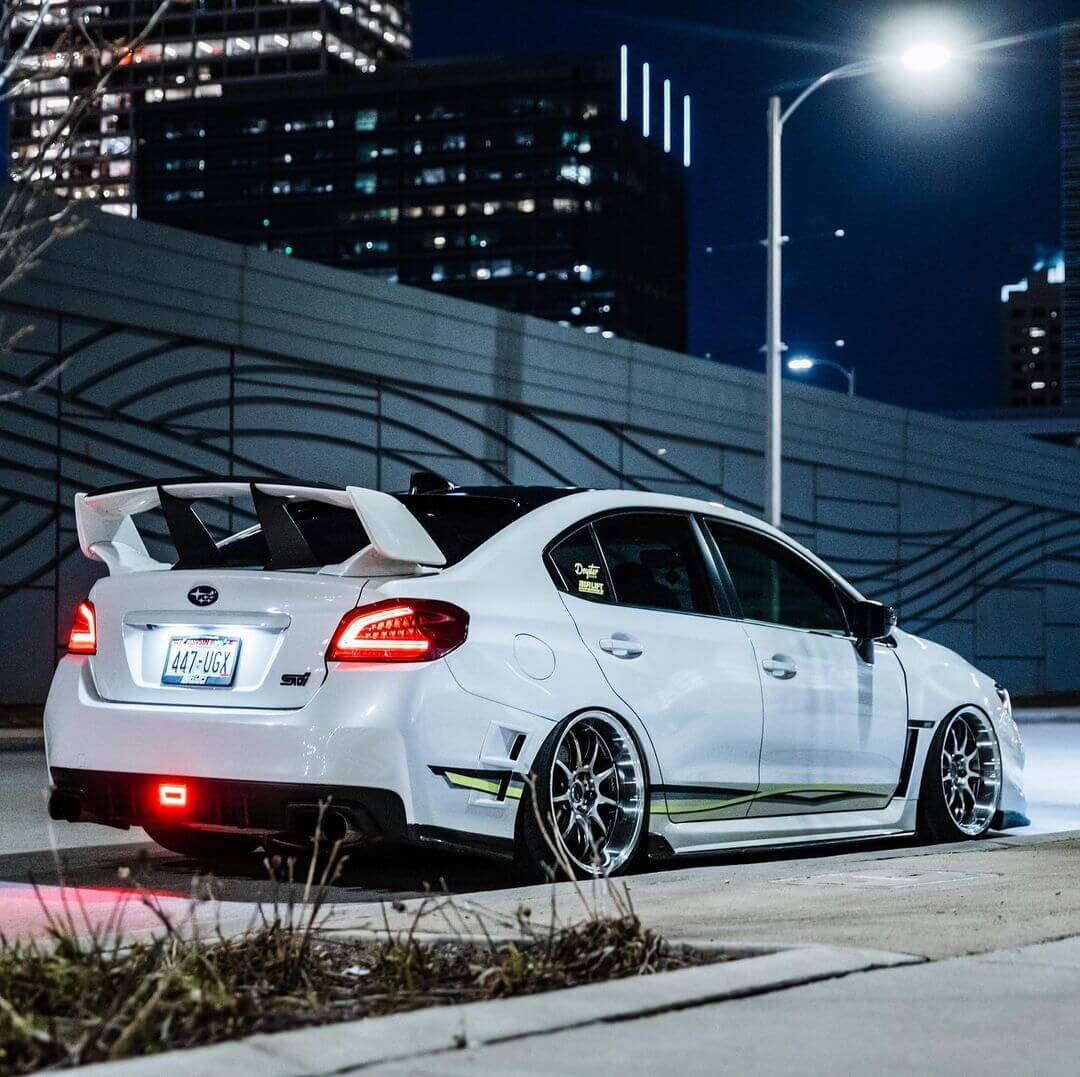 Exterior
OLM Paint matched hood
Stock headlights with overlays
OLM bezels with 2020 surrounds
XL CS Style Front Bumper Lip
Riviera Blue painted calipers
White STi badging
STi OE Style side skirt and spats
S207 Bumper Vents
Varis Style Diffuser
Vland Taillights
Perrin Stiffeners
HIC Roof Vane
Maxton Gurney Flap
Black Edging
GCS Rear fog
Wide-angle mirrors with defrosters and turn signal + mirror light tunnel by Subispeed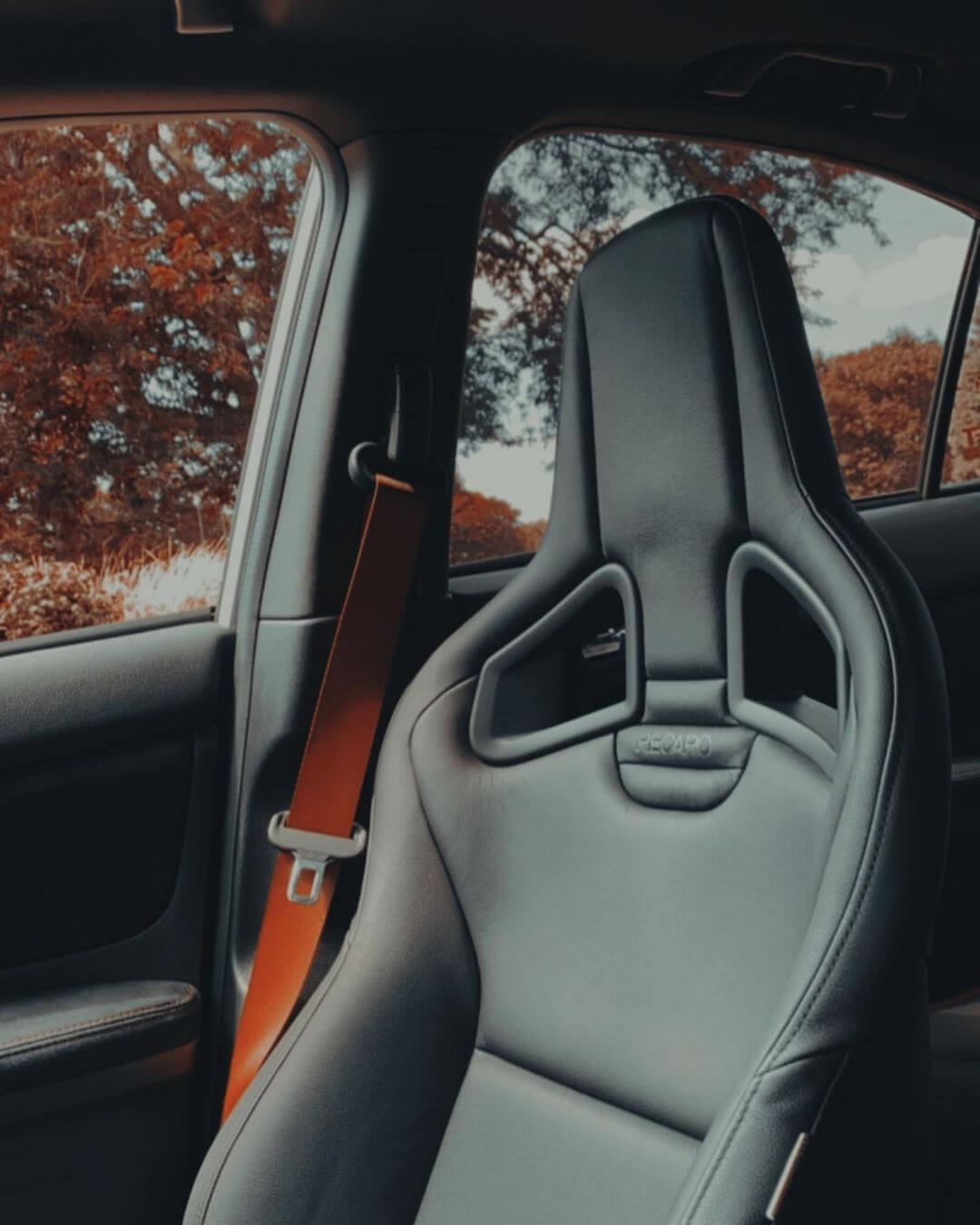 Interior
SWEIDIT custom wheel
IDoing Head Unit
WC Leatherworks Shift knob
Lockout Phase 2 Motortrend Mats
Recaro Sportster CS heated seats
Watch the progress and find out more about this Subaru WRX STi project by visiting the Instagram profile of the owner: @doypie!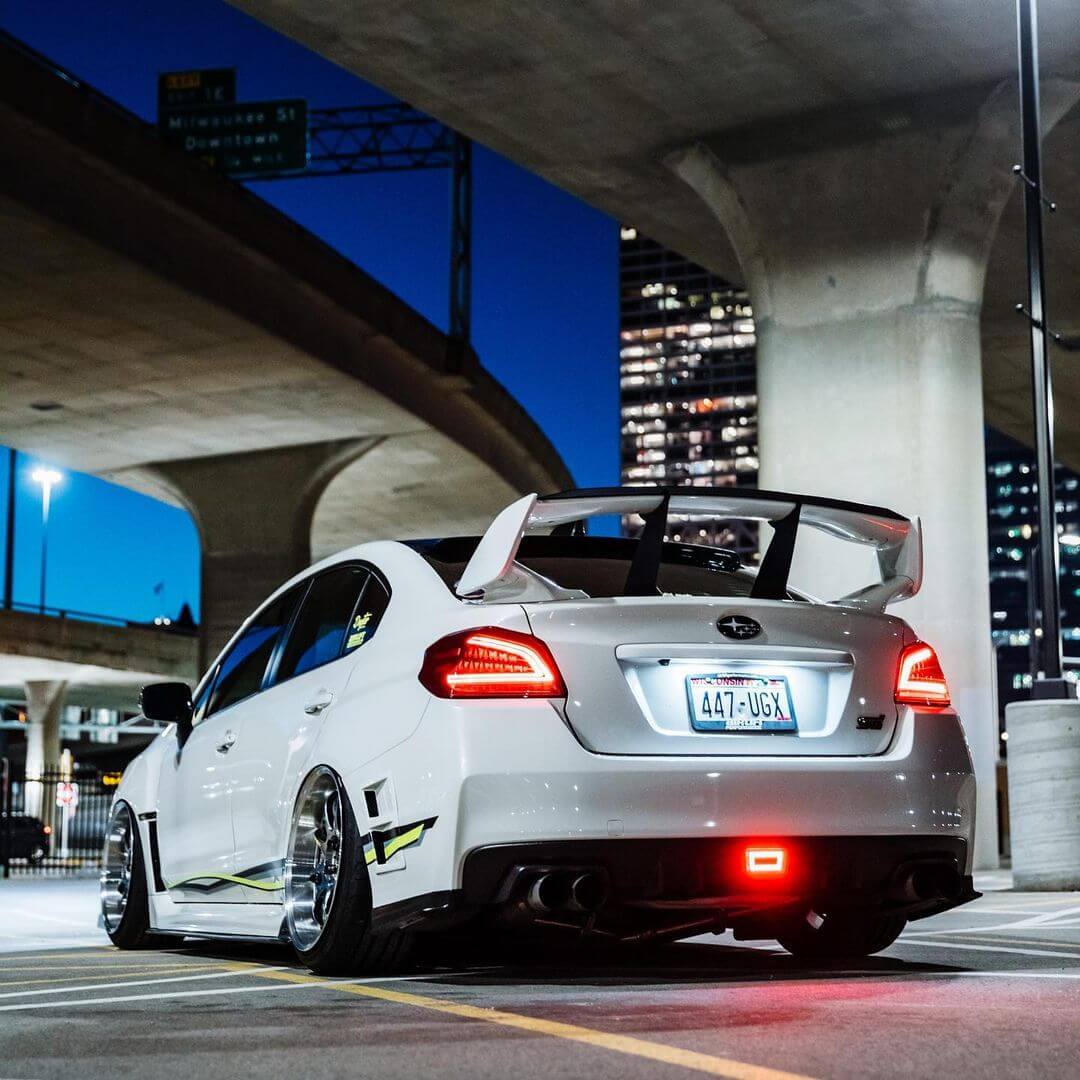 Mods Advice
Our team has put together a list of cool exterior mods that can help spice up the look of any WRX. Whether you're looking to make minor tweaks or dramatically transform the appearance of your ride, here are some options to consider:
Front Bumper Add-ons
Spoilers
Front Add-ons
Mirror Covers
Lights
*We advise double checking that all parts and accessories are compatible with your specific vehicle before placing an order. Consult with a qualified mechanic or the seller to confirm proper fitment.
Stay tuned for more car reviews on tunerDNA.com – Follow us on social media, and share this write-up if you enjoyed reading it!
Matt Grabli
With more than 10 years of experience in various niches of the aftermarket parts industry, Matt is specialized in vehicle modifications of any sort. He appreciates the motorsports heritage and keeps his hand on the pulse of modern trends. His life goals are documenting the diversity of the modern automotive culture and inspiring others to build the cars of their dreams!